August 16th, 2012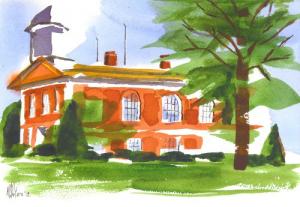 A new painting of a pleasant, colorful summers evening on the town square, at the Iron County Courthouse in "the Land of Brigadoon", Ironton, Missouri. Original is watercolor on Kilimanjaro brand all-rag cold-press watercolor paper, 7 1/2" x 10 3/4", for sale unframed, $300. Also available in prints up to 24.8" x 36".
August 14th, 2012
A solitary Missouri Dept. of Transportation (MoDot) Roadmaster road grader tractor along the roadside, painted on location -- none-too-soon it turns out, the tractor was gone the next day. Original 7 1/2" x 10 3/4" on Kilimanjaro brand all-rag 140 lb. cold-press watercolor paper, for sale unframed, $300. Available in print sizes up to 24" x 36".
August 9th, 2012
My poem, Tuffy Fluffies, blogged here earlier, was accepted and published in our local newspaper this week, August 8, 2012.
August 9th, 2012
A poem I recently submitted to our local newspaper's Really Bad Poetry Dept --

Fluffy Tuffies
by Kip DeVore

Some kitties can be a tad fluffy
While all can be a tad huffy
They bring in the fleas
And do as they please,
Trying to convince us they're tuffy.

Heh, not sure if they have published it yet, or are going to. I submitted it to their "Really Bad Poetry Dept".

Edit: This should have been titled Tuffy Fluffies, not Fluffy Tuffies, but I'll leave it that way for now.
June 25th, 2012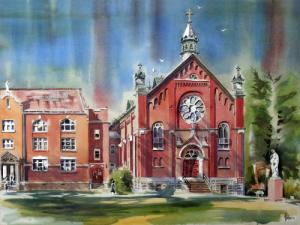 After completing much of this last summer going out for just the right sun's angle 7 to 10 am daily for several weeks, at this local former college campus of the Ursuline Sisters, Ironton, Mo, I resumed work again this summer, finishing the academic building at left and approximating how student girls and nun may have looked in between classes some forty+ years ago. The whole theme with pigeons constantly cooing, ornate sanctuary and steps below, reminded me of St. Paul's Cathedral in London in the song, "Feed the Birds", in Walt Disney's Mary Poppins. The birds suddenly disappear about 8 A.M., but are still cooing on into late morning. All of the painting was done on-site -- for some reason I increasingly have to experience a scene in order to paint it. I have many projects planned involving photographs, but I wonder if I will ever actually do them now, location-painting having its own draw for me. The sanctuary is still used for weddings, but the windows at left are open, the classrooms now bare to the elements, the roof untended as shown here. Ursuline Academy in Ironton, Missouri, in watercolor, 21" x 29", on stretched 300 lb. Arches cold-press watercolor paper.